A TOPICAL
MANAGING PLAQUE PSORIASIS?
TO HELP SIMPLIFY
Plaques illustrated. Not an actual patient.
ZORYVE IS DESIGNED TO FIT INTO EVERYDAY LIFE
Why consider ZORYVE?
ZORYVE is a unique topical that offers a new treatment option for plaque psoriasis.
Steroid-free, once-daily cream
Safe for long-term use
Unique formulation:

Non-greasy, moisturizing cream
Spreads easily
Absorbs quickly
Leaves no residue
ZORYVE is fragrance-free with no common irritants—
as well as vegan and gluten-free

How should I apply ZORYVE?
Apply ZORYVE to the affected areas once a day.
Rub the cream in completely until you no longer see it on your skin—then get on with your day!
Wash your hands after unless hands are being treated. If someone else applies ZORYVE for you, they should wash their hands after applying ZORYVE.
When should I apply once-daily ZORYVE?
Whenever you like. You only need to apply ZORYVE once a day. Choose a time that is easy to remember, such as before bed or first thing in the morning.

Hear how a real patient with plaque psoriasis addressed his condition with ZORYVE
Meet Daryl—a real patient who used ZORYVE during the clinical trial to address plaque psoriasis. Learn how the once-daily cream helped to create a success story and ask your healthcare provider if ZORYVE may be right for you.
Watch Daryl share about living with plaque psoriasis—and the results he experienced using ZORYVE.
Keep coming back—more success stories will be posted soon!
The ZORYVE Direct Savings Card Program

can help with out-of-pocket costs.* Sign up now! Sign Up Nowor text SAVE to 440‑4ZORYVE
or text SAVE to 440‑4ZORYVE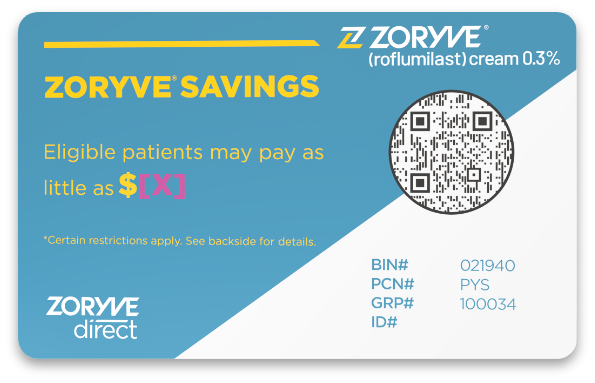 *Subject to eligibility criteria and maximum benefit limitation. This offer is not valid for patients without commercial drug insurance or whose prescription claims are eligible to be reimbursed, in whole or in part, by any government program. Terms and Conditions may be viewed here.
Have thorough conversations with your healthcare team about treatment!
The ZORYVE Plaque Psoriasis Conversation Guide can help you engage with your healthcare provider during visits.
Use The Conversation Guide