Talk to your healthcare provider about a
different treatment option

It's important to be open, honest, and thorough when meeting with your healthcare provider. Share your total plaque psoriasis experience—covering the specific symptoms that affect your physical body, as well as the emotional and social impacts to your daily life. Providing this information will help your healthcare provider determine the most appropriate treatment option to address your condition and keep you moving toward a clearer tomorrow.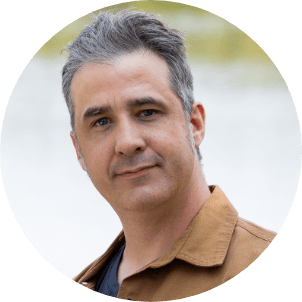 It's key to be open and honest during visits—and not be embarrassed or shy—to help your healthcare provider find the right treatment option for you.
Daryl—Real ZORYVE Patient
The ZORYVE Plaque Psoriasis Conversation Guide can help you engage with your healthcare provider. Know what you need to share and how to communicate during visits—so you can work together to find treatment to address the challenges that you experience.
Start the Conversation
Complete the 5 questions to create your Conversation Guide.
GET STARTED
Your answers and contact information will not be used, shared, or saved.
How does plaque psoriasis affect your body?
Select all the body areas where you've ever been affected with symptoms.
How does plaque psoriasis affect you?
Check all that apply:
How much does plaque psoriasis impact your daily life?
On average, how much time do you spend every day treating your plaque psoriasis?
When considering a new treatment option, what qualities are most important to you?
Check all that apply:
You've completed your Plaque Psoriasis
Conversation Guide!
Receive a copy that includes more tips and advice for conversations.
Choose how you'd like to receive it:
You've completed your Plaque Psoriasis
Conversation Guide!
Please enter your email:
You've completed your Plaque Psoriasis
Conversation Guide!
Success! Check your email for your results.
Be sure to mention any plaque psoriasis symptoms on:
Body areas like arms and elbows, legs and knees, and torso
Sensitive areas such as the face and genitals
Intertriginous areas (where skin touches skin) like armpits, under breasts, and between buttocks
Get ready for conversations with your healthcare provider
Complete the Conversation Guide and bring a copy to your healthcare provider visit.
Write down and organize any additional questions you have—so you are prepared to get all of your questions answered during your visit.
The ZORYVE Direct Savings Card Program can help with out‑of‑pocket costs.* Sign up now!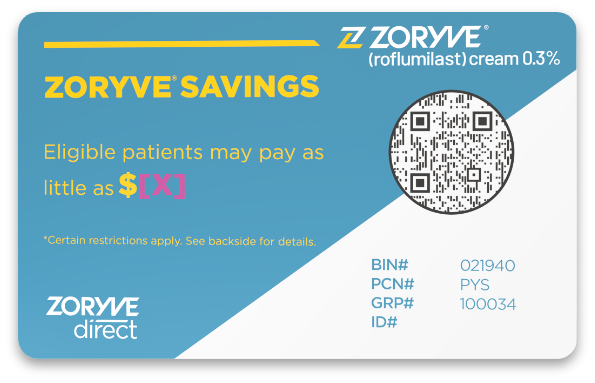 *Subject to eligibility criteria and maximum benefit limitation. This offer is not valid for patients without commercial drug insurance or whose prescription claims are eligible to be reimbursed, in whole or in part, by any government program. Terms and Conditions may be viewed here.